Showing 1–16 of 38 results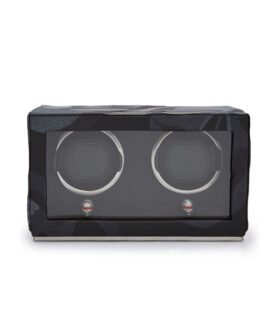 $

768,00 (

$

640,00 excl. EU VAT)
The Memento Mori cub watch winder is hand crafted in smooth vegan leather with skull embroidery, brushed chrome skull hardware with LED lights changing from white to red and black ultrasuede lining with LusterLoc™. Includes brushed chrome skull hardware and a single winding module.
Patented Innovation - Every WOLF winder counts the precise number of rotations. All other winders estimate the number of rotations.
Rotation: 10 second start delay, 900 TPD (Turns Per Day), patented rotation programs - Intermittent rotation with pause and sleep phases pre-programmed.
Directional Settings: Bi-directional
Battery Option: Option to run the unit on AC power (universal adapter included) or AA batteries - alkaline or lithium (lithium batteries will last twice as long as alkaline batteries). Batteries not included.
Add to cart