Looking for a fashion women's watch in round or rectangular / square shape and at the best price?
Conteenium.com is the best worldwide website for automatic and quartz watches with refined style and modern for Men and Women!
Discover a collection of more than 1000 watch references in the trendiest feminine style! The best brands are at Conteenium.com
Showing 1–16 of 80 results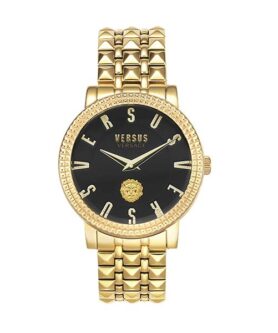 $

218,99 (

$

182,49 excluding EU VAT)
Versace is the common name of the Italian luxury fashion company Gianni Versace, founded in Milan in 1978 by Gianni Versace, Santo Versace and Donatella Versace.
The image of Donatella stepping onto the catwalk in front of the quintet of iconic '90s models holding hands.
The brand was first launched in 1989, when Gianni Versace decided to gift this broadcast line to his sister and muse.
"Versus was born with an innate approach to creativity, with a strong emphasis on innovation, flair and the unconventional" as Gianni said, and it is arguably something that was held dear to
Donatella.The ultimate goal of Donatella with this line is "to reach people who are not interested in fashion" and to offer an offer to "all those who dare to express themselves"
Add to cart