Looking for a fashion women's watch in round or rectangular / square shape and at the best price?
Conteenium.com is the best worldwide website for automatic and quartz watches with refined style and modern for Men and Women!
Discover a collection of more than 1000 watch references in the trendiest feminine style! The best brands are at Conteenium.com
Showing 1–16 of 142 results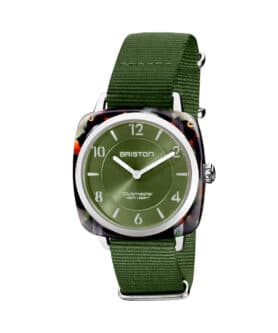 $

192,00 (

$

160,00 excl. EU VAT)
Briston est une marque française née d'un esprit très britannique.
Depuis les flèches de rêve d'Oxford et de Cambridge et les courses de bateaux glissant le long des terrains de cricket et de polo, ce chic sportif est l'incarnation du style britannique depuis la reine Victoria.
Ce style de vie chic mais décontracté et ses excentricités occasionnelles ont également été une grande source d'inspiration pour le style "preppy" qui a pris naissance dans les collèges de l'Ivy League sur la côte est des États-Unis.
C'est cet esprit, allié à son ADN horloger, qui donne à Briston son style unique.
Travailler avec des matériaux innovants, tels que l'acétate de cellulose, et les couleurs donnent aux montres Briston leur look distinctif.
Add to cart