Looking for a power reserve watch for men or women?
Conteenium is the best worldwide place for automatic watches with Automatic movement or quartz.
As its name suggests, this function lets you know the energy reserve your caliber has available to continue operating.
Discover a collection of more than 1000 mechanical watch references that reveals its energy "reservoir" on its dial!
Showing 1–16 of 76 results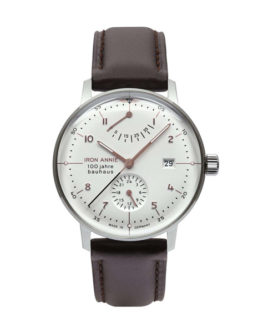 $

547,00 (

$

455,83 excl. EU VAT)
The fascinating world of aviation is, according to Iron Annie, intimately linked to that of beautiful watchmaking. The automatic watches inspired by these exceptional planes benefit from an all-round robustness, a distinctive Aviator design as well as highly reliable Japanese or Swiss mechanical movements. Every look at an Iron Annie watch arouses the fascination of men and women to reach new heights ...
Add to cart