Looking for a Small Second watch which, as its name suggests, replaces the second hand with a small second?
This complication allows you to get a tiny second hand on the dial of your watch, instead of one tall centered hand.
Discover a collection of more than 1000 mechanical watch references with two hands and one small second! The best brands are at Conteenium.com
Showing 1–16 of 122 results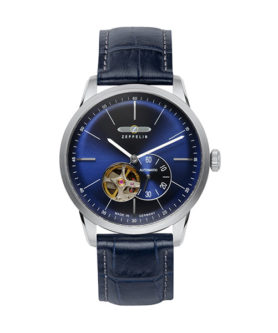 $

292,99 (

$

244,16 excl. EU VAT)
The history of the brand Zeppelin begins in 1899 with the construction of the first rigid balloon by the pioneer Ferdinand Graf von Zeppelin. Until 1939, the company founded by the Earl totalized the construction of more than 100 aerostats, in 27 different versions, allowing his invention, the "Zeppelin", to become a common word. With its experience in aeronautics, the German company Zeppelin continues today to innovate through the creation of accessible, qualitative and long-lived timepieces.
Add to cart