Welcome to our Woman and Lady watches category, where style meets functionality in the world of watches! Explore our wide range of timepieces specially designed for women, offering elegance, precision, and a touch of sophistication. Discover the allure of quartz watches, known for their accuracy and reliability. Our collection of quartz watches for women boasts a blend of timeless designs and modern trends, ensuring you stay on schedule while looking effortlessly chic.
For those who appreciate the intricate craftsmanship of mechanical movements, our automatic watches are a perfect choice. These self-winding marvels embody both tradition and innovation, showcasing the artistry that goes into creating a timepiece that's as much a fashion statement as it is a functional accessory. Looking to seamlessly integrate your watch into the digital age? Our connected watches for women offer a harmonious blend of classic elegance and cutting-edge technology. Stay connected, track your fitness goals, receive notifications, and express your individuality with these stylish companions.
Showing 1–16 of 168 results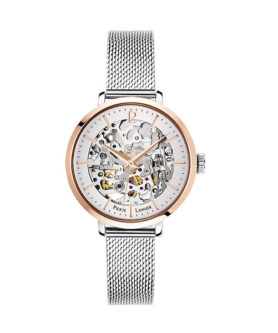 $

261,00 (

$

217,50 excl. EU VAT)
Since 1977, Pierre Lannier has been committed to defending French watchmaking know-how and French chic. Over 40 years of success and unique moments, shared in 60 countries where the brand is established. Since their beginnings in workshops in Alsace, the brand's designers and watchmakers have constantly combined their know-how and passion to create unique, trendy and hand-assembled pieces. Every day, the master watchmaker and his team meticulously assemble the timepieces with precision and technique rooted in the French watchmaking tradition. Each piece has been checked with the same rigor for over 40 years to support you every day, at all times of your life.
Add to cart