VOSTOK-EUROPE GAZ 14 OPEN BALANCE
$620,00 ($516,67 excl. EU VAT)
Vostok-Europe watches represent an unprecedented alliance of Eastern European and Russian timekeeping. By combining the watch-producing team in Vilnius, Lithuania with the largest Russian watch manufacturer Vostok the result is a unique fusion of tradition, innovation and cost-effective style…
Shipped within 48h to 7 days
Estimated shipping date: October 11, 2023
Email to a friend
Description
In 1977 was born the Gaz 14, a luxurious limousine that resonates as one of the greatest achievements of the automotive industry of the Soviet Union. Built for senior Russian officials and politicians until 1989, these cars were famous for their technological advances and comfort rivaling the American automobiles of the time. The Vostok Europe Gaz 14 collection is the epitome of the latest technical advancements of the Russian-European brand. Each watch has an elegant design that pays homage to the famous limousine.
VOSTOK-EUROPE
Gaz 14 Open Balance
YN84-565E551
22. This is the number of Rubies found in this automatic movement, the Seiko Epson YN84. It benefits from two complications that are useful in everyday life: a 24-hour to 6-hour indicator and a 12-hour power reserve indicator. This gauge allows the wearer to continuously know the level of energy available to the mechanism to operate.
In addition to its elegance and level of finish of the most stunning, the Vostok-Europe Gaz 14 Open Balance is cleverly decorated with a distinguished open at 9 o'clock offering a deep exposure to the heart of the watch and its mechanism. Each beat is thus visible in detail, giving this timepiece this much appreciated singularity …
Refined yet robust design
On the dial, there is a triple index outline including 2 sticks and 1 numeral index, all finely proportioned, flocking perfectly with the crown at 3 o'clock.
At night, we will appreciate the extreme readability of this Vostok-Europe Gaz 14 Open Balance provided by Tritium, a form of luminescence produced by the radioactive decay of a body.
For the case, we find a large size with a diameter of 43 mm, waterproof to 50 meters, robust long-term and resistant to micro-scratches.
Additional information
| | |
| --- | --- |
| Weight | 0,72 g |
| Dimensions | 11 × 12 × 8 mm |
| Warranty | |
| Man / Woman | |
| Power Reserve | |
| Crystal | |
| Band Width | |
| Band Material | |
| Band Color | |
| Dial Color | |
| Case Form | |
| Water Resistance | |
| Case Diameter (millimeters) | |
| Case Thickness | |
| Calendar | |
| Calibre | |
| Hand-winding | |
| Hacking | |
| Official Dealer | |
| Movement | |
Return and Exchange
You have 
30 days to try your product(s). 
For any reason, you can return your oder at this address:
Conteenium chez N'LOG - DUHAMEL ROUTE DE BEAUCHÊNE 27600 CHAMPENARD
If the client makes use of his right of return within 14 days, then it is the right of withdrawal. The client will be automatically refunded.
If the client makes use of his right of return between the 15th and the 30th day after receipt of the parcel, in this case it is not the right of retraction that is activated but a customer advantage offered by Conteenium to its clients. The the refund will be in the form of a credit note only.
If your product is available in demand, we do not proceed to any refund.
Delivery
We propose various type of delivery methods for a worldwide shipping. An order must be over 50 euros to be shipped freely in Europe.
EUROPE - Mondial Relay: free delivery at home or a relay point.
EUROPE - Happy-post: free delivery at home
WORLDWIDE - FedEx priority home delivery at 9,99 euros
WORLDWIDE - DHL express home delivery at 9,99 euros
Our offers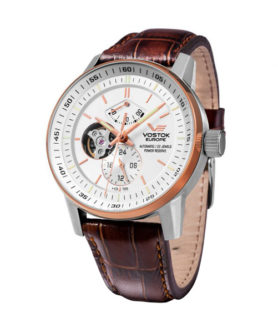 Vostok-Europe watches represent an unprecedented alliance of Eastern European and Russian timekeeping. By combining the watch-producing team in Vilnius, Lithuania with the largest Russian watch manufacturer Vostok the result is a unique fusion of tradition, innovation and cost-effective style…
$

620,00 (

$

516,67 excl. EU VAT)
Add to cart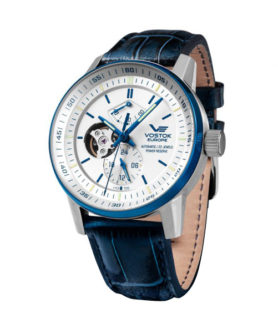 Vostok-Europe watches represent an unprecedented alliance of Eastern European and Russian timekeeping. By combining the watch-producing team in Vilnius, Lithuania with the largest Russian watch manufacturer Vostok the result is a unique fusion of tradition, innovation and cost-effective style…
$

620,00 (

$

516,67 excl. EU VAT)
Add to cart