VOSTOK-EUROPE ENERGIA ROCKET
$759,99 ($759,99 excluding EU VAT)
Vostok-Europe watches represent an unprecedented alliance of Eastern European and Russian timekeeping. By combining the watch-producing team in Vilnius, Lithuania with the largest Russian watch manufacturer Vostok the result is a unique fusion of tradition, innovation and cost-effective style…
Available on backorder
Estimated shipping date: April 27, 2020
Email to a friend
Description
VOSTOK-EUROPE ENERGIA ROCKET
PRESENTATION
This Vostok-Europe Energia Rocket 575A279 is a concentrate of mechanical technology backed by a unique style and design. With a robust case 16 mm thick and 48 mm in diameter, and an exceptional waterproofness of 300 meters, this timepiece will satisfied amateurs of fine watchmaking … And scuba diving.
This spectacular seal can be achieved thanks to two elements that are both technical and indispensable: a helium valve and a screw-down crown.
– The helium valve is located at 9 o'clock. This allows the gas to escape when the watch rises to the surface after undergoing pressure from the depths.
– The crown is located at 3 o'clock. Once sighted, it ensures a total waterproofness to the timepiece.
JAPANESE AUTOMATIC MOVEMENT
Under the hood, there is a Japanese caliber NH35A from the Seiko manufacture. Resistant and precise, it has 24 jewels and offers a power reserve of about 40 hours.
This movement also has a date complication at 6 o'clock, very practical everyday. Everything is carefully protected by a 3.5 mm reinforced sapphire crystal.
DESIGN…
The tricolor blue, orange and silver bezel is matched with 3 important components of the watch: the grey steel case, the bracelet and the dial.
At night, we will appreciate the extreme legibility of the Vostok-Europe Energia provided by Tritium, a non-toxic component, making indexes and hands visible in all conditions.
Finally, we will also appreciate the two bracelets provided, an "Oily croco" and a Silicone bracelet, ideal for diving …
Return and Exchange
You have 
30 days to try your product(s). 
For any reason, you can return your oder at this address:
Conteenium SAS 50 rue de Ponthieu 75008 Paris France
If the client makes use of his right of return within 14 days, then it is the right of withdrawal. The client will be automatically refunded.
If the client makes use of his right of return between the 15th and the 30th day after receipt of the parcel, in this case it is not the right of retraction that is activated but a customer advantage offered by Conteenium to its clients. The the refund will be in the form of a credit note only.
If your product is available in demand, we do not proceed to any refund.
Delivery
We propose various type of delivery methods for a worldwide shipping. An order must be over 50 euros to be shipped freely in Europe.
EUROPE - Mondial Relay: free delivery at home or a relay point.
EUROPE - Happy-post: free delivery at home
WORLDWIDE - FedEx priority home delivery at 9,99 euros
WORLDWIDE - DHL express home delivery at 9,99 euros
Our offers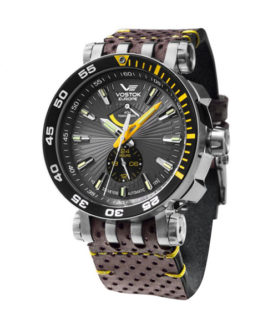 Vostok-Europe watches represent an unprecedented alliance of Eastern European and Russian timekeeping. By combining the watch-producing team in Vilnius, Lithuania with the largest Russian watch manufacturer Vostok the result is a unique fusion of tradition, innovation and cost-effective style…
$

853,33 (

$

853,33 excluding EU VAT)
Add to cart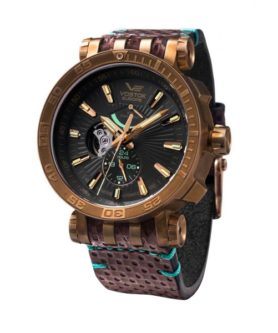 Vostok-Europe watches represent an unprecedented alliance of Eastern European and Russian timekeeping. By combining the watch-producing team in Vilnius, Lithuania with the largest Russian watch manufacturer Vostok the result is a unique fusion of tradition, innovation and cost-effective style…
$

889,16 (

$

889,16 excluding EU VAT)
Add to cart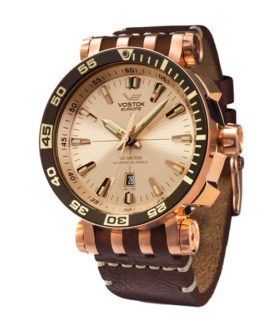 Vostok-Europe watches represent an unprecedented alliance of Eastern European and Russian timekeeping. By combining the watch-producing team in Vilnius, Lithuania with the largest Russian watch manufacturer Vostok the result is a unique fusion of tradition, innovation and cost-effective style…
$

849,99 (

$

849,99 excluding EU VAT)
Add to cart