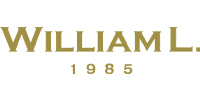 William L. 1985 was born of the ambition of a young watchmaking enthusiast, Guillaume Laidet, who had long worked for the most prestigious Swiss watch manufacturers. His concept? To democratise watchmaking, to break the traditional codes by offering affordable quality watches.
His models, with a vintage spirit, are inspired by an old chronograph from the 1950s, inherited from his great-great-uncle. This family jewel, once restored, quickly aroused the interest of his friends, but the price remained a real brake on any desire to buy.
This is how the William L. 1985 project came about: to offer a quality product at a price that defies all competition.
For almost a year and thanks to his contacts in the watchmaking industry, Guillaume developed this modern and above all accessible version of his old chronograph. No blabla!
The brand assumes a Chinese production. Each piece is designed in Paris and then manufactured in Shenzhen, thus allowing William L. 1985 to present such competitive prices.
And to launch his project, Guillaume naturally chose participative financing. The Kickstarter site was a real springboard, and immediately gave him a great reputation and a community that shared his philosophy.
And it is now together that we continue to write the story of William L. 1985…
No products were found