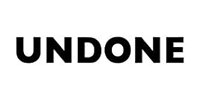 Undone was launched in 2014 by renowned British designer Michael Young, known for his refined minimalist style. For his avant-garde creations, he combines premium quality components.
Undone watches are inspired by iconic models that have marked the watchmaking world. The brand clearly advocates individuality and customization, seeking the meaning of each watch for the wearer.
Fueled by coffee, instant ramen and a strong passion for watches, over the past 5 years, we have realised our vision of streamlining conception, design and assembly under one roof; growing from a 3 man team to a 30 strong collective of techies , creatives and watch industry veterans.
No products were found