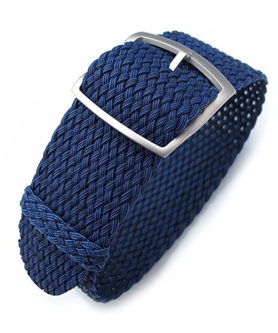 $

22,00
The
Perlon bracelet
is made of polyamide synthetic fibers,
woven
between them, offering resistance and dexterity to the bracelet.
When wearing it for the first time, we are surprised by the
softness and comfort
offered by the perlon bracelet.
In addition to the style, the Perlon has a noticeable difference with respect to the Nato:
the setting in size
. While the Nato bracelet is folded at its end, the woven fiber of Perlon offers "micro-spaces" between its weaving, allowing the strap of the pin buckle to come and attach to the desired size.
Select options