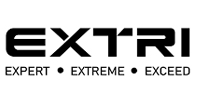 Extri is dedicated in the art of watch making including creative design and precise workmanship. We emphasize on the development of professional extreme sport watches which lets you be in control of accurate time and display your extraordinary personal charisma.
Extri's style is the combination of exquisite technology and athletic trend. We possess top watch manufacturing experts in the industry and we are professionals in precise timing technology and creative design. Superior Quality, innovation concepts, and detail workmanship make Extri stand out as leaders in the industry.
Extri incorporate the spirits of "Challenging the extreme" and "Exceed beyond oneself" into the process of watch making. We devote enormous amount of hard work and time in every creation of our sportive fashion products. Every detail and every tiny part are strictly monitored and applied. Extri pursue perfection in the art of watch workmanship which shows our absolute devotion in creating unique products displaying the spirit of extreme sports.
No products were found