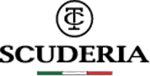 As a third generation Italian watch-maker, Enrico Margaritelli's impressive career includes collaborations with Fossil as head designer, as well as for Emporio 
Armani watch collections.
Enrico comes from a family of passionate watch-makers. His biggest inspiration, his grandfather, Ariodante Margaritelli, was a dedicated watch-maker in Parma, Italy where he created highly technical precision watch instruments for the Military during World War I and II.
The CT Scuderia watch matched for the world of elite sport-racing. Designed by Enrico Margaritelli, the CT Scuderia brings to life the visions and ideas procured on the drafting boards of visionary designers.
Showing the single result
$

909,99 (

$

379,16 excl. EU VAT)
Testa Piatta version pays tribute to vintage speedometers with the date window at 12 o'clock For people who can't wait to get behind the wheel or grasp the handlebar whenever they have half a chance. For people who wear the aesthetic of racing like a second skin.
Date window at 12 o'clock All the classicism of vintage instruments relives in the Touring Testa Piatta. The date window at 12 o'clock is an evocative reference to the traditional speedometer window.
Machined screw-down crown
The ergonomics of the interchangeable screw-down crown gives the Touring an iconic look that makes it as perfect to wear with a dress suit as with a sports jacket.
Three-piece case
Like the bodywork of a 1950s gran turismo automobile: the polished 40 and 44 mm diameter steel case has a three-piece construction. Water resistant to 10 ATM-100 meters, with a screw-in case back featuring an enamel tricolour motif and sapphire crystal glass.
Premium strap
The rapid release mechanism lets you switch and swap between a  fine Italian leather strap (smooth or lightweight), a steel bracelet or a strong and super light silicone band.
Add to cart