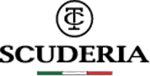 As a third generation Italian watch-maker, Enrico Margaritelli's impressive career includes collaborations with Fossil as head designer, as well as for Emporio 
Armani watch collections.
Enrico comes from a family of passionate watch-makers. His biggest inspiration, his grandfather, Ariodante Margaritelli, was a dedicated watch-maker in Parma, Italy where he created highly technical precision watch instruments for the Military during World War I and II.
The CT Scuderia watch matched for the world of elite sport-racing. Designed by Enrico Margaritelli, the CT Scuderia brings to life the visions and ideas procured on the drafting boards of visionary designers.
No products were found