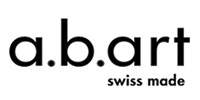 a.b.art Swiss Made is a watch brand for women and men who prefer unostentatious design. a.b.art is different. a.b.art is authentic.
We're not about glitter and glamour but much rather about sophisticated beauty, low-key shapes and materials as well as high Swiss quality. a.b.art is an expression of the passion and care with which watches are being produced in this Swiss company day in and day out.
a.b.art – authentic basic art.
No products were found