For over 185 years of history to the global recognition of the brand, WOLF has never wavered in its relentless pursuit of perfection, luxury and elegance. Each generation passes on strong traditions and ethics, creating a sense of pride in the accomplishments of this family-owned company.
WOLF products are a must for lovers of fine watchmaking. Cases and winders, each accessory is carefully designed to fit your timepiece.
With their quality collection, the security of your watches is assured during your travels.
Showing 1–16 of 23 results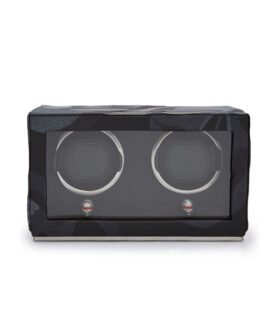 $

755,00 (

$

629,17 excl. EU VAT)
The Memento Mori cub watch winder is hand crafted in smooth vegan leather with skull embroidery, brushed chrome skull hardware with LED lights changing from white to red and black ultrasuede lining with LusterLoc™. Includes brushed chrome skull hardware and a single winding module.
Patented Innovation - Every WOLF winder counts the precise number of rotations. All other winders estimate the number of rotations.
Rotation: 10 second start delay, 900 TPD (Turns Per Day), patented rotation programs - Intermittent rotation with pause and sleep phases pre-programmed.
Directional Settings: Bi-directional
Battery Option: Option to run the unit on AC power (universal adapter included) or AA batteries - alkaline or lithium (lithium batteries will last twice as long as alkaline batteries). Batteries not included.
Add to cart