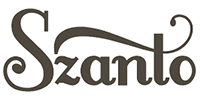 A few years ago, a veteran watchmaker was struck by the beauty and simplicity of military watches from nearly 100 years back, and set out to create a modern watch with the same classic vintage appeal.
Shortly after World War 1, civilians started wearing the newly popular 'wristwatches' that military officers had been relying on for on-the-spot accuracy. The originals were purpose-built, meant to be reliable in harsh conditions, with the convenience of a leather wrist strap for accessibility in the trenches. Those servicemen who proudly wore their new wristwatches when they returned home set the trend for generations to come. Today, Szanto has re-imagined watch designs from the early 20th century up to the 1970s, and gone well beyond military designs.
Szanto's vintage style watches evoke the feeling of a time gone by, when making top-notch products was the standard. Szanto uses the highest quality workmanship, and stands behind every watch, crafting each one for outstanding fit, finish, and style.
Szanto is an old family name – the Z has been silent for generations – an apt moniker for the century-old design inspiration, and an homage to the those who were first afforded the luxury of checking time with a mere flick of the wrist.
No products were found