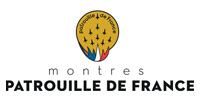 The measure of precision. The Patrouille de France watches are designed and assembled in France, in workshops located in Besançon. They follow the rules of a watchmaking tradition born in Franche-Comté.
A balanced alliance of technique, metals, materials and design, they take up the challenge of time. Each model has its own personality and holds its position.
The Patrouille de France watches, a complete collection with the effigy of the Athos and the mechanics of the Patrouille de France!
No products were found