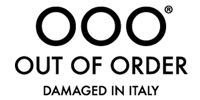 Out of Order Watches was born in February 2013, the day when co-founder Riccardo Torrisi finds himself having to repair an iconic and precious timepiece purchased with enormous sacrifices and, in all honesty, not enough funds to make it look like it was before it fell. Inspired by the timeless appeal of items such as a pair of washed jeans or a leather jacket embellished by the passage of decades, he wondered why watches could not share the same philosophy.
Riccardo Torrisi joins two experts in the field – Claudio Dalla Mora and Dario Ceolotto – and, working side by side, the trio creates a unique brand that blends the sophisticated manufacture of high-level watches, with the characteristic finish "Damaged in Italy" – patented by them, which adds even more character to the final product. Out of Order Watches competes in the "high-end" market offering a unique vision of vintage watches with the passionate precision of skilled craftsmen and expert watchmakers. You will never find two identical pieces of Out of Order Watches. Each is, thanks to the craftsmanship, in fact a unique piece.
So don't worry about wearing your Out of Order watch wherever you go: we love being part of the action.
No products were found