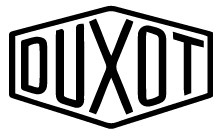 The DUXOT brand offers a collection of watches inspired by the mythical models created in the 1960s, a period considered as a pioneer in terms of design and performance, which has marked the 21st century. Its timeless style is made for lovers of beautiful watches, attached to the vintage references that the brand wishes to highlight.
Each watch is created and assembled with care in modern workshops, which develop the best watchmaking technologies to combine aesthetics and functionality. The DUXOT brand offers chic and functional models that will accompany you through all the moments of your life.
Showing 1–16 of 22 results
$

313,33 excl. EU VAT)
(
While the modes of movement across the oceans vary, it is sailing, the use of natural elements to move, which remains according to Duxot the purest form of navigation. By combining the best of technical skills, engineering feats and determination, the world of sailing is an embodiment of the best of man. Duxot watches, through a combination of design, craftsmanship and noble materials, pay tribute to the world of boating, with a style that makes each piece admirable both on land and at sea ...
Add to cart