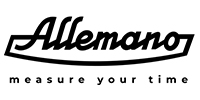 An Italian factory, which over 150 years ago started to manufacture high-quality products for the measurement of forces in various fields of use and still today is a market leader.
Originally Allemano's instruments were to be found on military vehicles and lately on industrial machineries. Today Allemano's history is wearable on your wrist.
Misuratori del Tempo: inspired by Allemano's 1919 pressure gauge installed on board of the FIAT 501 Torpedo.
[woof sid="auto_shortcode" autohide=0]
No products were found