$

5,83 excl. EU VAT)
(
The
NATO bracelet
was born in the 1960s, at the request of the
British Ministry of Defense
, being originally intended to equip the watches of endowment of its armies. This military origin always resonates in its name North Atlantic Treaty Organization,
OTAN in French
, which refers to its inventory code: NATO G10. In fact, we have a bracelet able to withstand all the military constraints: r
esistance to shocks, stretching, friction, to the water
. This one-piece bracelet has two strands, one of which goes under the watch and secures the watch so that the watch can stay in place even if a barrier breaks as a result of a shock. Although very resistant, the NATO has adapted very well to civil life, to the point of conquering the wrists of a large number of
watchmakers amateurs
...
Add to cart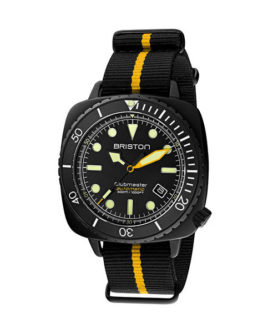 $

702,00 (

$

585,00 excl. EU VAT)
Briston is a French brand born out of a very British spirit. OFrom the dreaming spires of Oxford and Cambridge and from boat races gliding past cricket pitches and polo fields, this sporty chic spirit has been the epitome of British style since Queen Victoria. This chic yet casual lifestyle and its occasional quirkiness was also a great inspiration for the "preppy" style that originated in the Ivy League universities on the east coast of the United States. It is this spirit, combined with its watchmaking DNA, that gives Briston its unique style.
Working with innovative materials, such as cellulose acetate, and colours give Briston watches their distinctive look.
Add to cart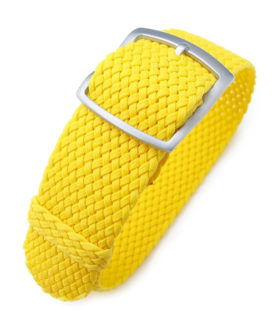 $

22,00
The
Perlon bracelet
is made of polyamide synthetic fibers,
woven
between them, offering resistance and dexterity to the bracelet.
When wearing it for the first time, we are surprised by the
softness and comfort
offered by the perlon bracelet.
In addition to the style, the Perlon has a noticeable difference with respect to the Nato:
the setting in size
. While the Nato bracelet is folded at its end, the woven fiber of Perlon offers "micro-spaces" between its weaving, allowing the strap of the pin buckle to come and attach to the desired size.
Select options